Designed by Geoff Cowap, the Springbank was inspired by traditional craft he had known as a youngster in the Southcoast of England, designed specifically to introduce his family to sailing and built in clinker timber construction the first "Black Pig" was an instant success and much admired. Tooling was produced for a fibreglass version and a production run followed that was to continue across two decades with boats sailing in all parts of Australia.
Since 2007 the new generation Springbank is built to the original design though refining the fiberglass laminate to save a little weight. Construction is female moulded hand-laminated clinker fiberglass with gloss gelcoat finish to the hull exterior and internal deck and cockpit mouldings. Easily cleaned and long lasting for low maintenance with outstanding durability. The cockpit side seats floor and foredeck are sealed fibreglass chambers providing buoyancy. The plywood swing centreboard and kick up rudder allows shallow water cruising as well as easy launch and retrieval from a trailer or beach.
The boats are fitted out with solid teak thwarts and trim; that provides classic looks and is practical and easy to maintain. Complete with Aluminium mast, gaff and boom, white Dacron mainsail and jib and top-quality fittings as standard.
A generous sized storage locker is forward of the mast under the foredeck for central location and easy access of safety and cruising gear. The Springbank is a charming boat evoking the mood of a bygone era whilst being easy to sail, stable and well mannered with good performance. Springbanks can plane in a breeze with the capacity for a family, a couple or even single hander to day-sail, picnic or camp cruise safely.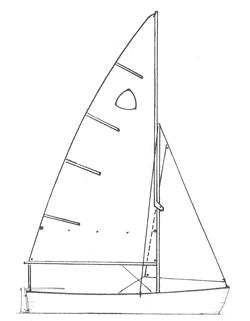 Principle Dimensions:
Length

4.51 m - 15'

Beam

1.77 m - 5.11'

Weight

190kg